2023年了,突然發現NEAR2掛了無法用,重安裝也沒救?怎麼辦?
PVE、PVP、在寂靜谷內走跳跟瞎子一樣怎麼辦???
現在為各位介紹另一個預警軟體"SMT"

軟體名稱: SMT
軟體形式:開源軟體
開發日期:2017年6月
開發人: Slazanger
開發人聲明:
Where can I get the latest SMT ?
(下載位置)
The latest version is always available on github here :
https://github.com/Slazanger/SMT/releases
Is it safe ? (本軟體非間諜軟體,如果有盜取使用者資訊的話,開發人會因違反EULA被CCP 封號)
SMT is fully open source for this exact reason; its an intel/hunting/map tool… its not sending anything in secret …doing so would be against the eve developer EULA and get me banned (see section 2.3 : License Agreement - EVE: Developers ) … if you want to poke around then code feel free to sync up the code and drop me a message if you want any pointers in setting it up
Is it illegal/against the EULA?(使用本軟體不會違反EULA)
No, it just reads the log files that the eve client writes and uses a number of official and unofficial API's to get the relevant data .

使用教學:
1.下載SMT,並安裝。
https://github.com/Slazanger/SMT/releases

2.點選"Add Character"透過EVE授權給SMT來新增角色。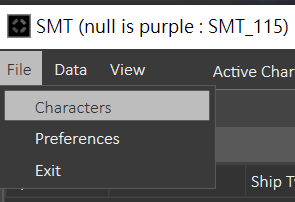 3.參數設定,請依下方設定基本資料。

4.面板介紹,如下。