What ship you are flying and how does it impact the fleet?
Mainline DPS: You are the damage dealer of the fleet. You need to follow the primary broadcasts and anchor on the FC.
Logistics: You rep everyone and are loved by all. You normally have a separate anchor and your own ingame channels to talk to other logistics pilots and the logistics anchor.
Heavy Support: You are tanky and have webs/paints/disruptors on. You should follow primaries, but in some situations you are given special targets to inflict your tackle on. You also are used to smartbomb incoming bombs/missiles/drones. It is super important that you have good overheating skills because of the short range even your bonused tackle ships have.
Boosters: You provide the fleet with boosts that increase everything about our ship stats but pilot skill. It is super important that you have a mindlink and you cycle boosts only when asked—and to stop cycling them when asked—otherwise you might be aggressed on a gate alone.
Anti-support: Your one job is to murderzone hostile support ships like interdictors, command destroyers, bombers, frigates, etc. You have better scan res and tracking because of this. Have an overview that only shows ships that you should be engaging. YOU DO NOT FOLLOW PRIMARIES.
Heavy Interdictors: You have a long point and a long scram. You are sometimes used to bubble, but most of the time you are used to put a long point or scram on a few different targets. You cannot be repped whilst your points are active so good overheating skills are important. They will mean the difference between life and death. You also have a cyno to bring in friendly caps or supers. Make sure you carry Liquid Ozone.
Interdictors: You are used to bubble things. Different FCs have different rules on bubbles; some like you to bubble everything, others will want you to sit on a perch until you are called for. If in doubt ask the FC what you should be doing as an interdictor pilot. Watch for interdictor classes soon.
Interceptors: Every FC dreads having the interceptor conversation with his fleet. That's where they say "I don't need x number of interceptors in this fleet can you please switch" and you should switch. Flying interceptors is a niche role that 95% of the people that fly them seem to completely ignore. You are used by the FC for perches on grid, scouting, or to get tackle on a target. You do not anchor on the FC or follow targets, if you do you are a worthless motherfucker who doesn't deserve to be on fleets.
Newbee Tacklers: T1 frigates that are used to tackle the enemy and have fun on fleets. Don't take things too seriously as you are probably new, just have a good time and know that you tackling someone is helping the fleet.
General Fleet Situational Awareness
When you are in a fleet fight and F1 monkeying you should be checking the following 3 things in a repeating cycle.
Am I anchored? Above the capacitor it will say how you are anchoring. If it does not you have either broken anchor or are not anchored. You need to also look to see if you and trailing behind. If you are, overheat your prop mod for a few cycles to catch up. If you are one of those people that find themselves unable to keep up with the FC alot then check you have Acceleration Control to at least level 4.
Am I shooting the correct primary? You should have the broadcast history window up and be following targets in this window. Please do not try to pull them from the overview window: This doesn't display them in the correct order that they were broadcasted in and will result in you not shooting the primary. Make sure you filter out unwanted broadcasts. This rule might not apply to you if you are flying a designated anti-support ship (usually a legion or a RLML ship)
Splitting DPS results in the fleet not killing a target and that can lead to defeat. Listen to the FC calling primaries. They should be calling primaries by the first two or three letters
Am I being yellow boxed / red boxed by the whole hostile fleet? The sooner you broadcast the sooner you get reps. Never broadcast for just one or 2 yellow/red boxes. Broadcast when you are being called primary target by the hostile fleet.
So the repeating cycle you are checking should be something like this:
Am I being yellow boxed / red boxed by the whole hostile fleet?
Am I shooting the correct primary?
Am I still anchored?
Overviews
It is important you have and maintain selectable overviews. There are many floating about in the EvE Community. It is important you have and maintain selectable overviews.



Broadcasting For Reps
You should have the Need Armor and Need Shield broadcasts bound to keys on your keyboard. If you already have this setup, please reply sharing what keys you use. Do not use a key that you can hit by accident.
To set up this up while ingame, follow these instructions or just look at this pretty picture:
Hit the Escape (ESC) key on your keyboard
Select the Shortcuts tab in Settings
Select the Navigation tab
Double-click on the relevant command
Press the key you want bound to the command
This will improve your survivability in a fleet fight.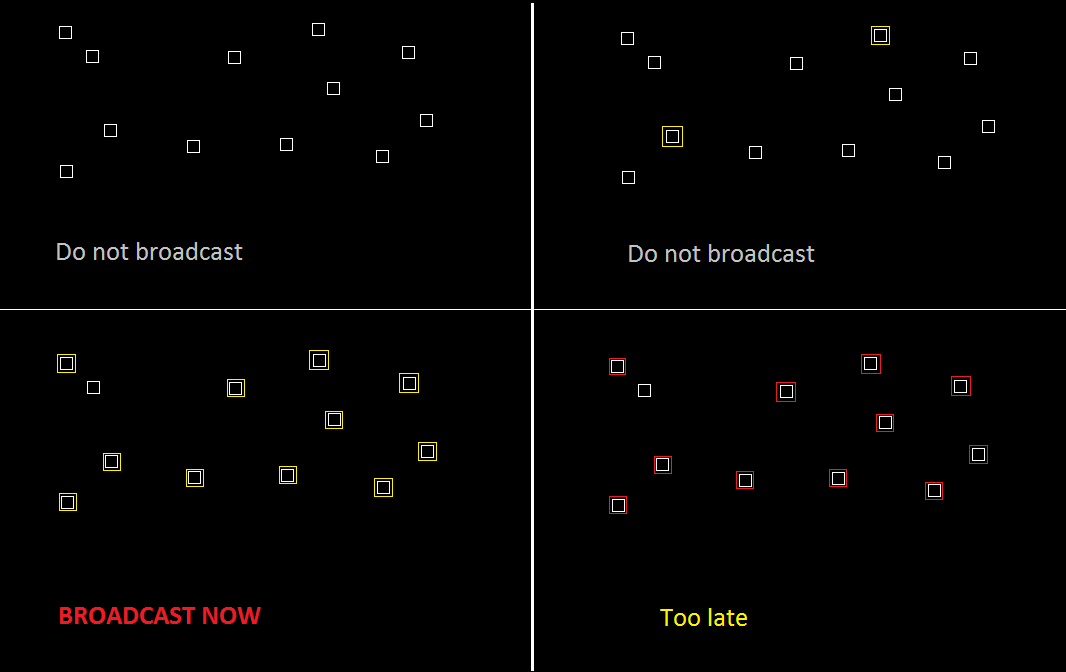 When the whole fleet is engaged in a fleet fight do not broadcast for reps if:
You are a tackle frigate (Atrons, Interceptors, EWAR frigates). When you take damage, warp off and warp back to a perch on the grid, from there you can re-engage in the fight…
You are an Interdictor. You should only broadcast for reps if:
You are tackling a lone target and the fleet is coming to kill it.
You are actively involved in bubbling a mission-critical target.
You're the only Interdictor in fleet.
You are in any other situation where warp interdiction is important enough that you absolutely must stay alive.
You are taking bomb damage. You should be using the above situational awareness cycle and know that you are not primary so you do not need to panic broadcast. When you panic broadcast, you kill whomever is the hostile primary target by flooding the broadcast window with requests. If you are lower skilled and took more damage than everyone else, the FC will usually call for people lower than X% to broadcast for reps. On this note as well, do not broadcast for friendly or hostile smartbomb damage.
Anchoring Up
A lot of doctrines require you to anchor up on someone. This is used to maintain range, match transversals and fleet formation in a fleet fight. Failing to anchor not only means you will die by falling out of rep range, but you will also not be in the optimal range for your weapons to shoot the primary target.
Listen to the FC when he calls for you to anchor. Anchor up.
You should have your primary anchor on your watch list.
You should always anchor as the FC instructs. If you're not sure how you should anchor, ask!
Check that you are anchored by looking for the text above the capacitor. It should say how you're anchored, such as "keeping x at range 1000m". It is easy to break anchor by double-clicking in space, causing your ship to burn off in that direction.
If you are anchored in a kiting doctrine such as Jackdaws or Cerbs and get scrammed, you should instantly switch to the target that is scramming you. No MWD = You're Dead.
Overloading Modules
One of the most powerful tools in the game is overloading modules. Doing this can be the difference between life and and death, but make sure you understand the mechanics behind it - otherwise, you will be that guy who always burns out his prop mod.
Train Thermodynamics to 5.
Try your best to never burn your modules out. If your prop mod burns out in a kiting doctrine, you should seek to repair it ASAP.
Always overload your hardeners when you are the primary target of the hostile fleet.
Fleet Communications
If you are scouting, only speak up if you have accurate information. You should provide your location and what you see. For example: "FC, I am in GE-. There is a hostile Hurricane on the V-3 gate."
Leading up to and during a fleet fight please focus and listen to instructions. Speaking about a random interdictor 20KM off does not help. The FC will be well aware. Trust in your FC's. Most have their own scout alts.