Alternative Title: How To Go Far Fast Without 65 Stargates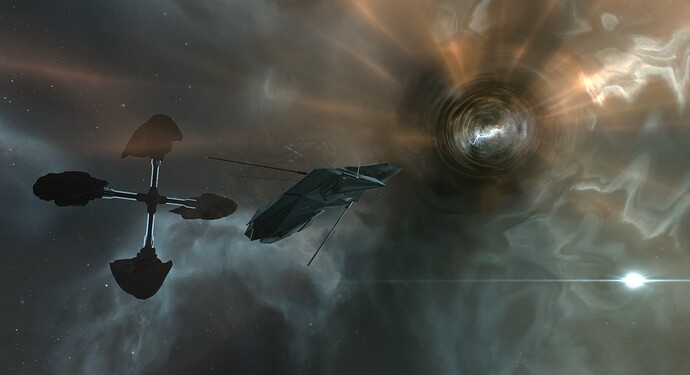 HOW-TO: DRIFTER WORMHOLES
Quick backstory. Jove Observatories popped up throughout New Eden, followed by Autothysian Lancers. Fast forward a few months; systems that previously had Observatories now have a chance of spawning Drifter Wormholes.
There is a list of every system that has Jove Observatories here.
There are 5 types of drifter hole:
V928 J164710 Vidette
R259 J174618 Redoubt
S877 J055520 Sentinel
B735 J110145 Barbican
C414 J200727 Conflux
So - if you travel through Vale of the Silent, you may see a Drifter wormhole. Warp to it, it will have one of the 5 names above. If you find a Drifter Wormhole in Eso/TKE/Etherium Reach/Feyth with the same WH ID, you have a connection.
Drifter Wormholes spawn with a maximum mass of 375,000,000kg (they're always half-mass). A Muninn is 11,000,000kg and a DNI is 13,500,000kg, so you should exclusively be using Harpy (1,039,500kg), Retribution (1,173,900kg after armor plate) or Torpedo Bomber (1,750,000kg). Basically - you either push a 25-pilot DNI fleet or 150 Assault Frigates on a two-way adventure.
Drifter Wormholes can have 50+ sigs, so don't waste your time parking alts inside and scanning them all down. The fastest approach is to have dedicated nullified interceptor alts to scout the hostile regions, bookmark the inside of the holes and report it here.
There is a new ingame channel called 'FRT.DRIFTING' with a list of all the possible drifter locations in Vale, Tribute, Esoteria, Stain, Tenerifis and Omist - I will add more regions as time goes on (eg, TKE). The channel includes a Dotlan map, recommended clone locations for other regions, and the optimal route if you have multiple scouts.
Hope this helps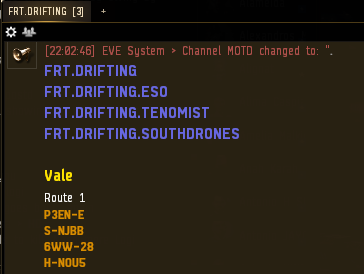 DRIFTER SYSTEMS:
Vale of the Silent
Tribute
Etherium Reach
The Spire
Malpais
Omist
Tenerifis
Feythabolis
Esoteria
Stain
Deklein
---
替代标题: 如何在不用65个星门的情况下快速远行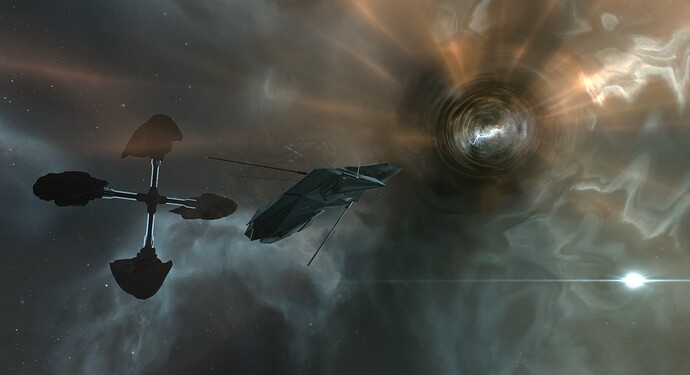 指南:流浪者冲动
讲一点背景:朱庇特瞭望台在新伊甸园各处出现,随后是塞申长矛手。几个月后,有过天文台的系统现在有机会有流浪者虫洞出现。
总共有5种流浪者虫洞:
V928 J164710 游哨
R259 J174618 堡垒
S877 J055520 岗哨
B735 J110145 碉堡
C414 J200727合流
所以–如果你在寂静谷穿行,你可能会看到一个流浪者虫洞。跳到虫洞后你将看到以上5个名字中的一个。如果你在埃索特亚/卡勒瓦拉阔地/琉蓝之穹/非塔波利斯找到一个具有相同的虫洞ID的虫洞,你就是找到虫洞连接了。
漂泊者虫洞的最大质量为375,000,000公斤(它们总是半质量)。一个缪宁是11,000,000公斤,一个幼龙级海军型是13,500,000公斤,所以你应该专门使用女妖(1,039,500公斤),审判者(装甲板后1,173,900公斤)或鱼雷轰炸机(1,750,000公斤)。基本上–你要么推着一支25人的幼龙级海军型舰队,要么推着150艘突击护卫舰进行双向冒险。
流浪者虫洞可以有50多个空间信号,所以不要浪费时间把小号关在里面扫信号。最快的方法是让专门有拦截失效装置的小号去侦察敌对地区,在洞内记个位标并在这里报告。
有一个新的游戏频道,叫做 "FRT.DRIFTING",里面列出了寂静谷、特布特、埃索特亚、混浊之域、特里菲斯和欧米斯特所有可能的流浪者地点–随着时间的推移,我会增加更多地区(例如卡勒瓦拉阔地)。该频道包括一个Dotlan地图,其他地区的推荐克隆地点,以及如果你有多个探子的最佳路线。
希望这有所帮助!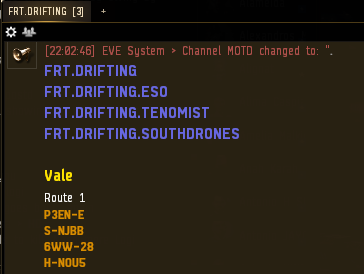 流浪者系统:
寂静谷
特布特
琉蓝之穹
螺旋之域
糟粕之域
欧米斯特
特里菲斯
非塔波利斯
埃索特亚
混浊之域
Deklein